Its easy to think, whilst watching a rally, that the two people sat side by side in a fast car, flying through the forest, are having the time of their lives.
A degree of this is true, but the focus, determination, preparation and balancing on the edge of fear in the most savage of conditions is just the foundation of every event Rally Competitors go through each time they dust of their race suits.
The story of the Driver is well known, the fans love them and young people aspire to be them. Take Andreas Mikkelsen for example. I am very honoured to have met him on many occasions in the past, his story is one that I tell to every young driver coming through VrDMotorsport. Having been part of the background at Skoda UK Motorsport during his back to back ERC titles I had always believed he would make it to the very top. Winning the RACC was well deserved and I believe there will be many more outright WRC victories to come for the talented Finn.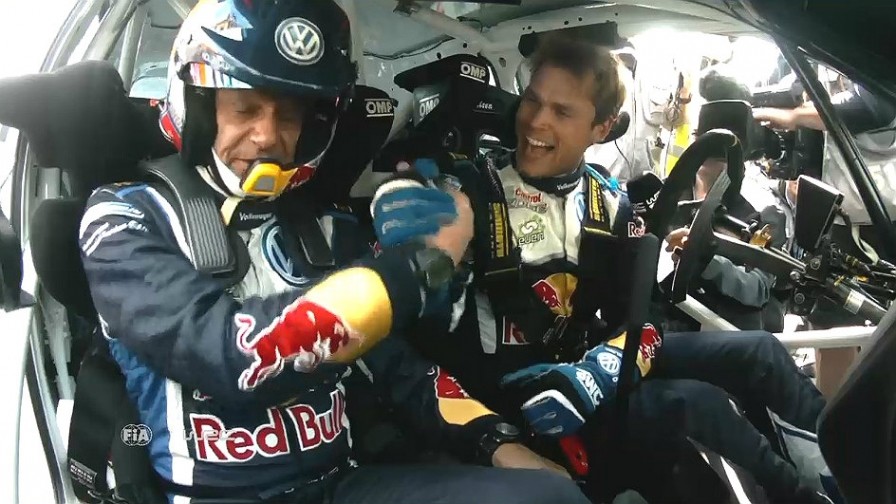 What about the man who sits by his side? Someone once told me a good Co-Driver is worth 2 seconds a mile, this is true and is the difference between competing and winning. Ola Fløene is the man on the notes for Andreas and he is more than just a good Co-Driver! I sat reading his notes at Goodwood Festival of Speed many years ago, mesmerised by how he planned the calls to ensure that the Skoda was on point at every turn.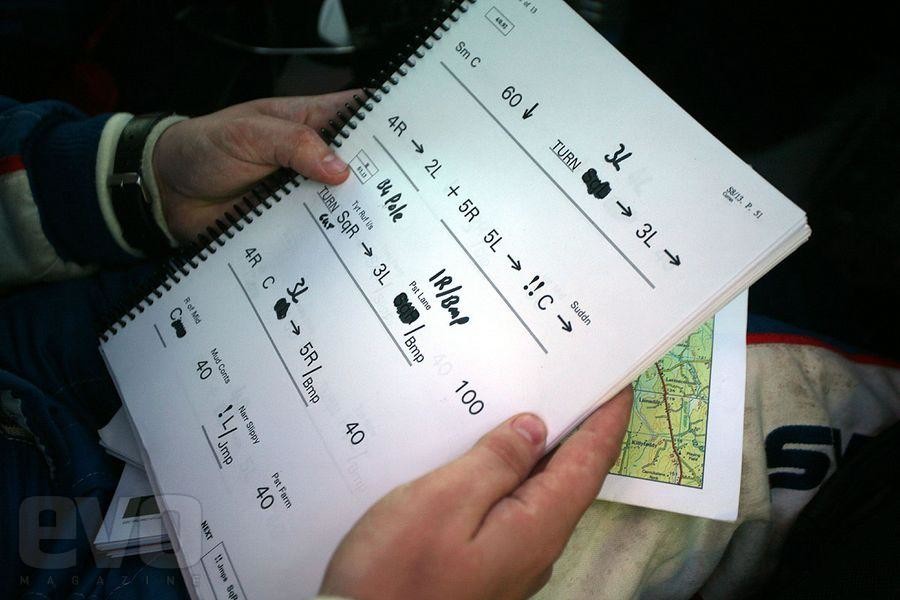 As the years have passed I sit with 48 hours remaining before competing on the same stages as the duo I looked up to all those years ago and as the Co-Driver of Bob Beales in his legendary VW Oettinger GT I wonder to myself, Am I a good Co-Driver? Would I be worth an extra 2 seconds a mile? Am I ready to take the step up from Single Stage to an International Event?
I have always been a confident guy, but not in a bad way, its because I believe in myself. I definitely think this is over half the battle. You have to have ambition and belief before you set out otherwise failure is the only option. I genuinely believe I could go all the way to the WRC, even in my later years in terms of development but right now this is not in my head. Today I am carefully walking each stage Bob and I will be tackling over the four days later this week.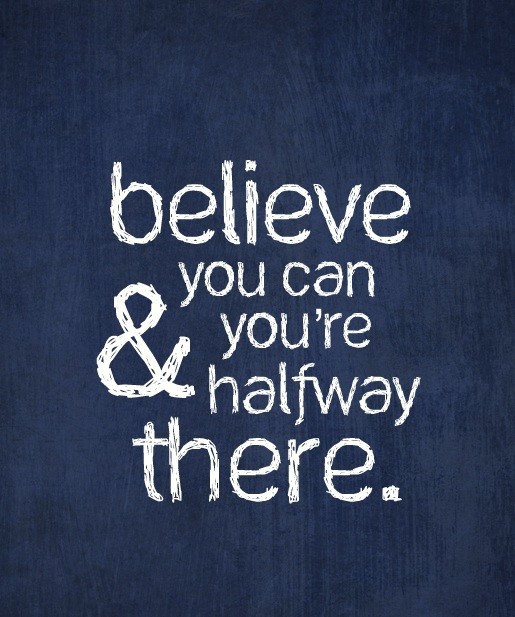 A Co-Drivers job begins months before such a big event like this. I spent many weeks planning Rally GB with our incredible partners, VW Heritage, on how we can take part in such event. The planning goes without saying begins at the funding stage. But after this matter is resolved and the entry is in and accepted we can start looking at what we will do during the event.
It wasn't expected that a full engine rebuild was about to take place. The guys at VW Heritage were astounding sending all the parts we needed, within our tight budget and by next day delivery! This 1958 Beetle keeps competing thanks to the VW Heritage Team having these parts on the shelf and the experts to advise us on what we need.
I started discussing Bobs story with local and national press and working out how we would present our partners in the service park in the correct way. Interviews by magazines followed by interviews, press writing, more sponsorship hunting, parts ordering, parts fitting, meetings after meetings. It is relentless. Then two weeks before SS1 the Road Books arrive. Its time to clear the mind.
I passed on the team management to our esteemed liaison office Smurf. He was set on a trail of working out where everyone needed to be at every minute, where we eat, where we sleep, where we go to the loo even!! Having someone to carry out this meticulous planning is essential for a successful event over the course of four days.
I began map reading on October 19th. I shut myself off from the world and my family to make sure I have every eventuality covered in my head. A Rally is not just about driving on a circuit and being quicker than the next man. I have a road book with over 600 miles of Road and Forest tracks that I need to call for Bob to take the correct route at pace and on time, one wrong call could mean not hitting the next Time Control on time, Getting Lost in Wales forever or even worse dropping off the edge of the Great Orme cliff sides. Anything is possible in Rallying.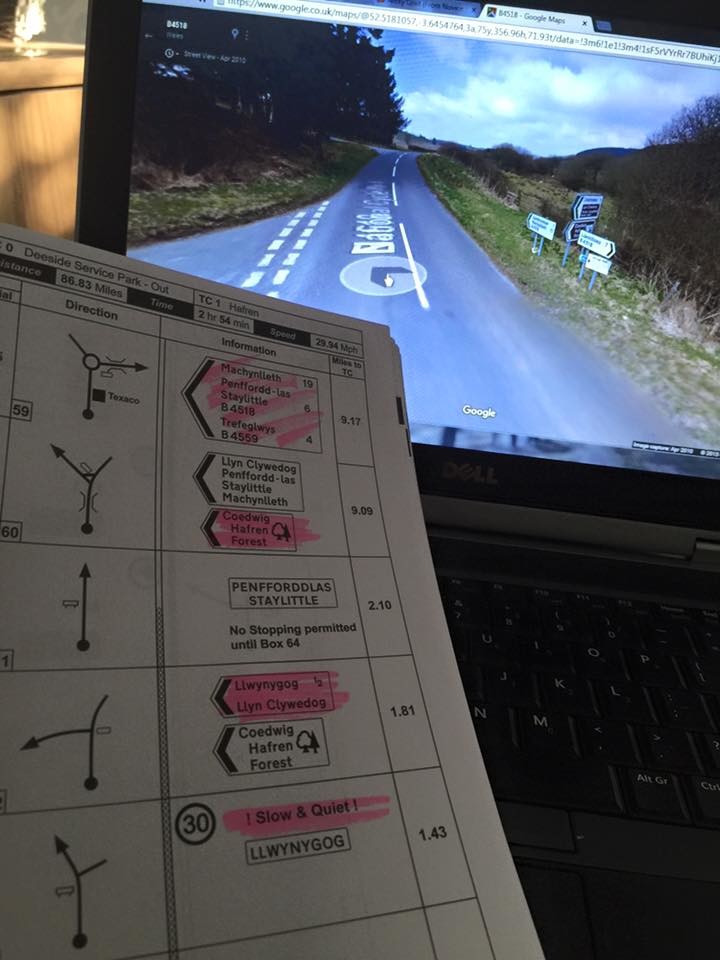 Bob is as calm as can be. He has called me every day, assuring me that everything will be fine. And I believe his every word. We are going there to have fun, finish the full event and win our class. But I would not forgive myself if I called the wrong point and became the reason for us not achieving our goals. So the planning continued.
I recently watched a video on YouTube . This is an essential hour spent for any up and coming Co-Drivers wanting to learn from the very best. I am not a novice but certainly needed the reassuring words of Nicky to make sure all the planning I had been doing was on the right track!
I also found a great resource online called Rally Matcher which had a fantastic blog written by Local Competitors Ian Harden, Neil Bye and Bryan Hull
This guide I printed straight away and have it in my Co-Drivers Bag right now!
So what is in my Co-Drivers bag for an event like Rally GB ?
– Clipboard
Essential for keeping timecards on and sturdy enough for note making in the car
– Road Books and of course SOS Board
Wihtout these I would be lost !
– Pacenotes
A watered down version of the road book with markings on specific points of each stage to warn Bob about so he knows exactly how fast and where he should be going.
– Cable Ties and Gaffer Tape
Well these pretty much fix everything !
– Spare Intercom Battery
So Bob can always keep me in his ears despite him not listening !
– Assorted Pens, Pencils and Highlighters
Good thick Pencils are essential, you will never have too many of these items on an event
– Timing equipment
Only last week our Tuning Brand began working with AST Stopwatches. I got the AST 14 stopwatch which is a fantastic bit of kit that will keep track of countdowns to Time Controls for every fixed point.
I was also contacted by ELYSEE watch makers in Dusseldorf who welcomed me into their brand as an Ambassador for the foreseeable future. They provided me with their Rally Timer I watch which is an essential bit of kit for regulatory events so this will be matched to the official clock at Rally GB and be our complete guide to correct timings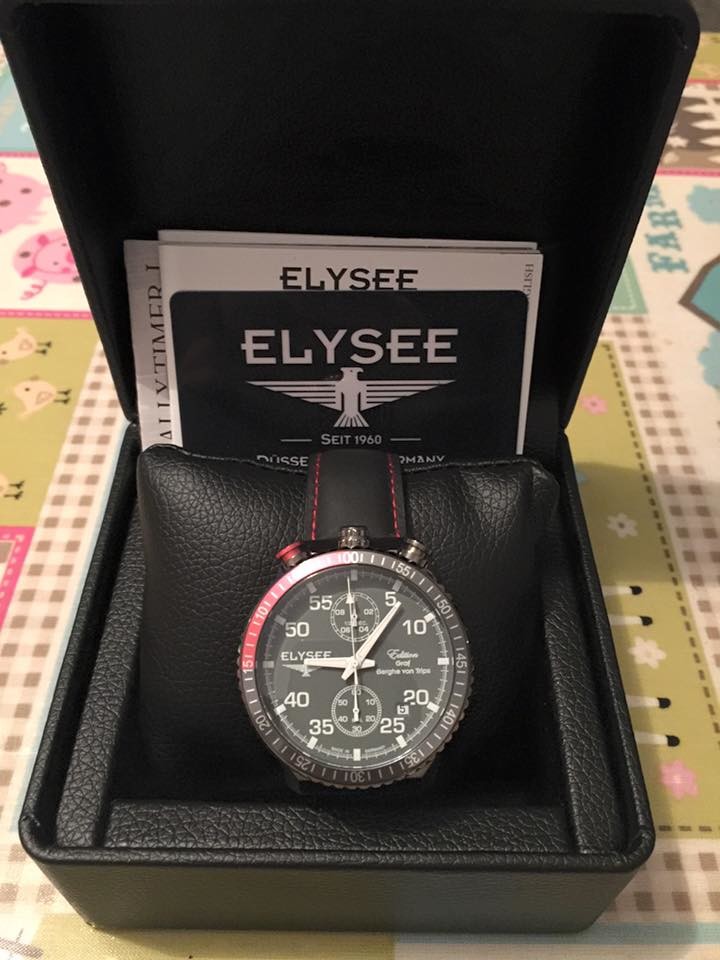 – Paperwork
Everything else is in here ready for sign on, licences, entry docs etc..
With only days to go I am now going back over my notes one more time, making sure I have all the correct equipment in my Co-Drivers bag and just clearing my thoughts of everything going on around me. This is without a doubt, the biggest event I have ever done, but I will arrive in Deeside on Thursday knowing i have done everything I can to prepare for a real challenge on success.
Today I have been asked by several people how I am feeling and if I am looking forward to it, whilst wishing me luck.
It has been fantastic to see all of the comments on Facebook and Twitter as well as those in person. Both myself and Bob are humbled to receive the support of everyone out there and we promise that we will be at Rally GB to entertain and challenge those around us who think a 1958 Beetle can't mix it with the big boys !
The next time I write a blog I guess it will be reporting on how we got on, I hope to bring you some great news !!!
__________________
We have to thank our fantastic partners who have supported us throughout this year and into this event without whom we would not have made it:
VW Heritage
Without the team at Heritage we would not be taking on Rally GB. 100% our Title Sponsors for Rally GB and we look forward to representing their brand to the highest esteem in Wales this weekend.
Elan PR
With an official PR team managing your brand you cannot grow into a world championship contender. We are on the start of a very steep journey and are blessed to be working with this great team who will keep us on the right path to the very top.
Falken Tires
We have been running the Beetle on Falken Tyres for some years now and also our Safety Car CC GT. By far the most comprehensive rubber we have worked with and their support has been outstanding from day one. In the service park we will be giving away lots of Falken Goodies, so be sure to come over and grab some amazing freebies!
Lemon Signs of Derby
The refresh of the Beetle has taken shape thanks to the incredible quality, design and pace of creation by our graphics partner Lemon Signs. There is no end to the ability of this company and our service park display will be presented in a visually stunning creative example made by the team at Lemon.
Wake Energy
Being a brand ambassador for this Energy Drink locks down our premium outlook. Their product is sure to be the market leader in taste, quality and ingredients and will be welcomed nationwide in the years to come as they begin their campaign to be present in some of the UK's leading outlets.
Sunwise
Being a brand ambassador for this outstandingly British eyewear manufacturer has been a great partnership throughout 2015. The team will be using some of their finest glasses to keep glare away from eyesight whilst fitting in with the fast pace sports outset of Rally GB.
ELYSEE
The latest brand to join my personal sponsorship and I am truly humbled to be their latest brand ambassador, heading in to a very exciting future between us.
Astra Trading
Keep an eye out for our team across the stages at Rally GB. Astra have pulled out all the stops to rejoin the VrDMotorsport programme and supply us with some incredibly well designed winter jackets to keep the whole crew looking smart, professional and able to carry out work in the toughest conditions.